Products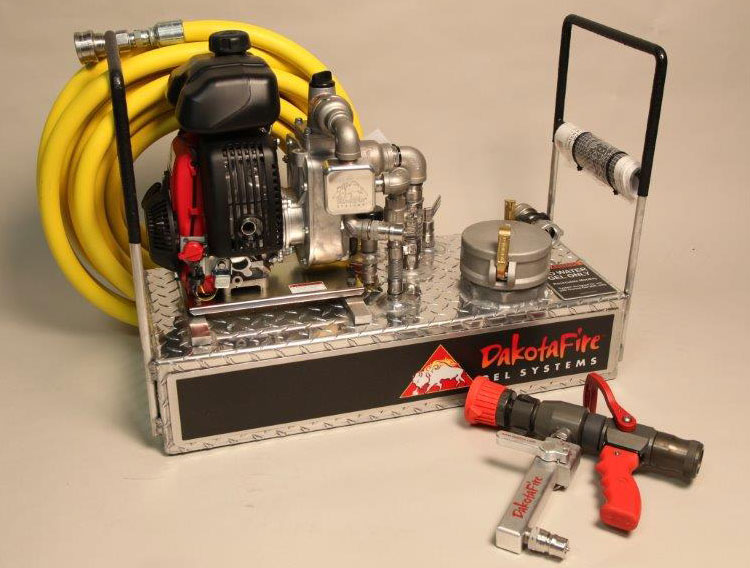 DakotaFire Systems is a pressurized gel delivery suppression system and is the first of its kind to provide uniform and consistent coverage of flame retardant gel even under extreme conditions.
New fire trucks outfitted with DakotaFire's pressurized gel delivery systems are available. However, a quick and economical alternative is to add gel capability to an existing truck. You do not need to purchase a new truck in order to apply a DakotaFire delivery system to your fleet. The gel delivery system is small and portable and able to fit any existing outfit. This suppression system can be attached to a fire truck's existing water supply or mounted to a pickup truck or ATV with a water pump. This portable gel system offers unsurpassed pressure and reach, making this the leader in firefighting equipment.
The unique suppression system quickly creates the right mixture of gel and water so the gel is delivered efficiently and performs reliably in spite of variances in altitude, water, quality, and temperature.
These systems save lives. Firecrew can apply gel hours ahead of the fire and move to a safe zone.
Contact Us
DakotaFire's MOTAK (Mobile Gel Attack System) is intended to address portable gel delivery protection and suppression needs. It is compact and designed to fit inside fire apparatus compartments. Components of the gel delivery firefighting equipment include:
One 8.7 gallon aluminum diamond plate gel concentrate tank which will serve as the framework for the mobile system.
Two – ½" aluminum rods with cross bar, coated in durable, non-slip polyurethane, which forms the 21" high carrying handles welded to the sides of the tank.
The tank shall be 28" long x 12" wide x 6" high.
The tank shall be equipped with a 4" fill hole with 4" CamLock cap.
The tank shall be equipped with a ½" diameter breather valve.
The tank shall have a quick-connect nipple mounted for complete re-circulation capabilities.
One Honda WX15 four-stroke gas powered delivery pump mounted to aluminum tank.
Manual bypass capabilities.
50 foot ¾" Goodyear gorilla hose with stainless steel quick-connect couplers.
1" pistol grip ball shut off gel nozzle with 20 GPM eductor, mixing valve and flow restrictor.
Aluminum nozzle body with fully independent and variable controls.
Adjustable nozzle controlled by end of line user.
Nozzle supports full range, end of line mechanical proportioning of gel as well as adjustment of water flow.
Quick connect clean up adapter.
All fittings are stainless steel and TIG welded.
Unit size: 28" long x 12" wide x 21" high.
Tank and pump assembly: 53 pounds.
Hose: 21 pounds.
Nozzle: 7 pounds.
Mix ration from 0-3%.
Flow rate up to 60 GPM.
Gel delivery system is to be used in conjunction with existing water tank and pump on truck.
Save